HydraFacial MD® is a non-invasive, multistep treatment that combines the benefits of next-level hydradermabrasion, a chemical peel, automated painless extractions (no pinching!) and a special delivery of Antioxidants, Hyaluronic Acid and Peptides. It does all of this in one quick treatment that delivers real results without downtime or irritation.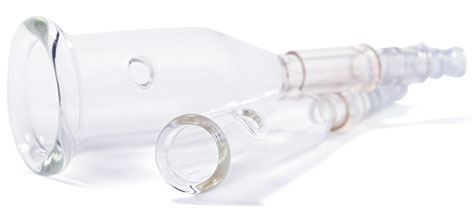 Mechanical Lymphatic Drainage gives an added enhancement to your HydraFacial MD Treatment. By enhancing HydraFacial MD Treatment with mechanical lymphatic drainage, we create the healthy and radiant skin at its most optimal level.
Who It's For
---
Great for all skin types, the HydraFacial MD® Treatment is not only highly effective at improving overall skin health, but also excellent for remedying:
Fine Lines and Wrinkles
Elasticity & Firmness
Skin Tone Evenness & Vibrancy
Skin Texture
Hyperpigmentation/Photo Damage
Oily/Congested Skin
Enlarged Pores
Advanced Signs of Aging
How it Works:
Vortex-Fusion®
---
The unique Vortex-Fusion® serum delivery system is what sets the HydraFacial MD® apart from other procedures. The multi-step treatment cleanses, evenly exfoliates and extracts to remove impurities and dead skin cells while at the same time replenishing vital nutrients including Antioxidants, Peptides and Hyaluronic Acid. Thanks to the devices' superior delivery system, these performing ingredients are able to more effectively help mitigate environmental damage, reduce fine lines & wrinkles, and plump & firm skin for long-term results you can see and feel instantly.
Treatment Options
---
The Customizable HydraFacial MD® treatment can be tailored to safely & effectively address your specific skin concerns. Our targeted problem/solution protocols were developed to help mitigate some of the most universal skin concerns, but your trained HydraFacial MD® professional can always further tailor your treatment to make it most exacting to your unique needs. Your skin isn't like everyone else's and your treatment shouldn't have to be either.
---
Suited for all skin types
$179.00