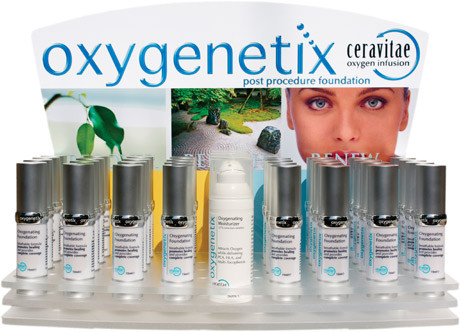 Besides being the first truly breathable makeup, the foundation contains Ceravitae Complex, a patent-pending formula proven to increase oxygen uptake, stimulate skin cell production and s help promote the healing process following most procedures.
Oxygenating Foundation gives complete and natural coverage to even the most sensitive and compromised skin. When applied independently or over Oxygenetix moisturizer, Oxygenetix foundation acts as a virtual second-skin, allowing it to breath with no occlusive oils to interfere with the bodies natural healing process.
This second skin technology creates a delivery system allowing Ceravitae to:
1) speed connective tissue reconstruction
2) systematically build collagen layers
3) reinforce natural skin healing.
The Results:
1) Less down time
2) Complete, undetectable coverage from day one
3) reduced scar tissue
* Water Resistant  * SPF 25 * 10 Blendable, Color-corrective shades * Transfer Resistant * Hypo allergenic *
Completely non-irritating, even to acne, rosacea, psoriasis, or eczema