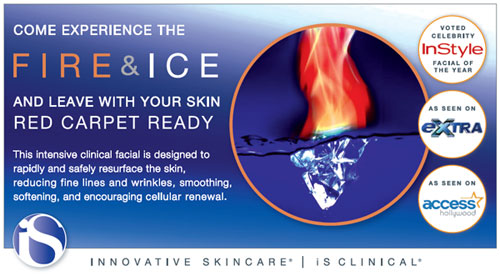 Red Carpet Look
Our most popular facial, this intensive clinical treatment is designed to rapidly and safely resurface the skin, reducing fine lines and wrinkles while smoothing, softening and encouraging cellular renewal. Excellent for all skin types and ages, this facial results in a complexion that is dramatically refined, with no downtime, peeling, or other negative
side effects.
The "Fire" is a Intensive Resurfacing Masque clinically formulated with 18% unbuffered glycolic acid, lactic acid, citric acid, malic acid, retinol, vitamin B3 and potent antioxidants, including green tea extracts. The "Ice" is the Rejuvenating Masque is a soothing and intensively hydrating masque containing hyaluronic acid, aloe vera gel, Japanese green tea extracts, licorice extracts, grape seed extracts and rosemary extracts.  This pampering part of the facial cools the initial "peel" and leaves the skin glowing.
The skin will instantly have that radiant glow
Skin will typically feel tight and firm after treatment
Mild redness of the skin may occur following treatment
It may be repeated at four-week intervals (a series of 5 facials is suggested to receive the optimum clinical effect)
Care for your skin by using the complete iS Clinical product range
Protect your new skin with adequate sunscreen of Eclipse SPF 50.
Uptown Laser performs Fire & Ice Facial treatments and can answer any questions or inquires you may have about the facial and iS Clinical Products.