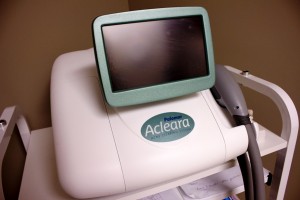 Acne is the most common skin disorder – affecting approximately 80% of people between the ages of 11 and 30 with many continuing to have acne into their 40s and beyond.
Uptown Laser Clinic is the first ones in Canada to have this new system! Treat acne reliably and comfortably. Skin should feel drier, less oily and fresher immeidately. After treatment, current acne outbreaks usually clear up over the following two days. Time required: 3/4 hour
Acleara acne therapy* is a breakthrough acne treatment combining a gentle vacuum with pulses of laser energy to help clear your pores, treat acne outbreaks and get back the clear skin you've come to miss.
Pricing
$150 Per Treatment
Acleara is ideal for you if:
You have acne
Your skin is oily and/or your have large pores
Over-the-counter acne medications just don't seem to work
You choose to avoid systemic treatments for acne such as oral antibiotics
Your acne does not respond to antibiotics
You want to avoid the side effects associated with prescription medication
Previous acne laser treatments have been too painful and not very effective.
Please call us with any questions or concerns; we want you to completely understand what you are booking and the costs involved.
Gift Certificates are Available